Document management using DevonThink
16.05.2018
Deutsche Version dieses Artikels:
Dokumenten-Management mit DevonThink
DevonThink is a little known pearl among software products which is available in the Apple universe only. It's a powerful document management system which provides files access to Mac, iPad and iPhone and keeps the content in sync always.
Integration of Mac and iPad/iPhone
A unique feature is the link function referencing documents. This works across devices and keeps intact even if a document is moved around. For example a link to a later needed document can be attached to a task or a schedule. The task can be setup on a Mac, later be sorted into any kind of group structure and finally you can work on it on your iPhone. Taking the fact that the storage location of a file doesn't matter any more the file system of the computer is out of the game. A nice effect is the seamless integration of iOS and Mac which was a pain before. Once you have worked like that your can't imagine the nasty world of file trees and file transfers any longer. This is truly a game changer!
Using iOS you can open DevonThink documents in an app via iCloud-Drive / Locations. Document changes are stored back to the DevonThink database then. The picture below gives you an impression how this looks like in "PDF Expert":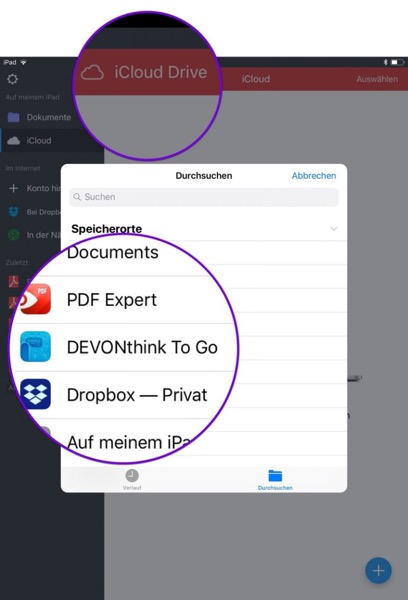 Data access without any limits
This kind of integration needs a central storage instance of course. You can use Dropbox, Box, CloudMe oder WebDAV (e.g. your own server). DevonThink can be used stand alone too, but this doesn't really make sense. The data can be encrypted in order to make them inaccessible for unauthorized individuals.
Mobile devices reaches memory limits quite often. Therefore "DevonThink To Go" (iOS) has the feature to avoid syntonization of the full content but load on demand instead. Meta data (e.g. the search index) is locally available in any case which enables full text search even for not loaded documents. It should be obvious that a document management system like this provides very fast and powerful search capabilities, but I like to point out this fact, too.
A Mac stores locally the full database which is a identical copy of the cloud or server version. This duplicate adds data security to the setup and enables the option for time machine backups. With that you can recover documents or revert back to old versions.
Paperless office
Any kind of paper documents are captured blazing fast with DevonThink Pro Office on a Mac and a Fujitsu SnapScan scanner and stored as PDF files. Text recognition (OCR) enables full text search capabilities for them. I recommend ScannerPro on the iPhone for a quick scans on the go. It produces similar searchable PDF files and has a good DevonThink integration.
On a Mac there are endless scripts for workflow enhancements available and on you can utilize x-callback-functions for automatic workflows.
But even without scripts all basic needs are already covered:
save web pages,
collect text snippets,
archive mails,
work on text- / markdown- / RTF- / PDF-documents,
quickly convert a couple of JPEGs into a searchable PDF
… everything no problem at all.
Just give it a try
This short review scratches the surface of the possibilities only but maybe it motivates a little bit for the adventure called "paperless office". You can test the Mac version for free, but unfortunately there's a paid app on iOS only.
I recommend this apps with nice integration to DevonThink: PDF-Expert, OmniFocus, iaWriter (all available for Mac and iOS) and as mentioned before ScannerPro for iOS.
References
DevonThink:
https://www.devontechnologies.com/products/devonthink/overview.html

SnapScan:
http://www.fujitsu.com/us/products/computing/peripheral/scanners/scansnap/ix500/index.html
OmniFocus:
https://www.omnigroup.com/omnifocus

PDF-Expert:
https://pdfexpert.com

iaWriter:
https://ia.net/writer
ScannerPro:
https://readdle.com/scannerpro